When it comes to enjoying a day out on the water, there's nothing quite like the thrill of water sports to get everyone's blood pumping. From wakeboarding to water skiing, tubing to kneeboarding, these activities offer adrenaline-pumping excitement for everyone involved. These activities are how memories are made!
But can the trusty ol' cuddy cabin be used for water sports?
As someone who's spent time on various types of boats, I can confidently say that, yes, a cuddy cabin boat can indeed be used for water sports. However, there are some considerations to keep in mind, as well as pros and cons, to ensure a safe and enjoyable experience and to keep your expectations rooted in reality.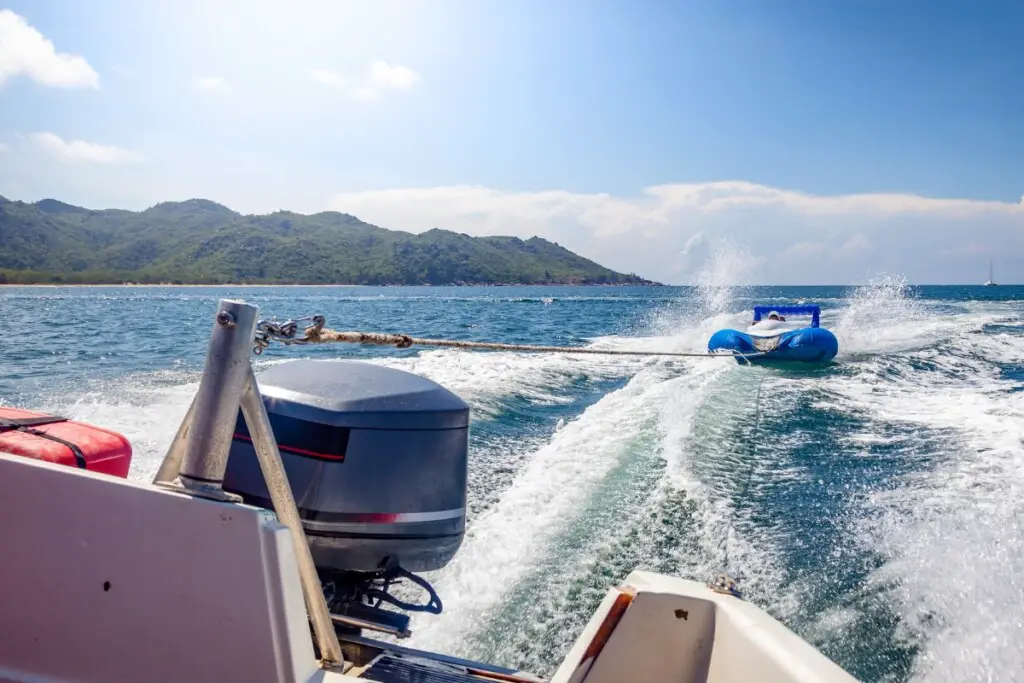 Advantages of Using a Cuddy Cabin Boat for Water Sports
Comfort and Convenience: Cuddy cabin boats offer a comfortable and convenient space for both participants and spectators. With a small cabin area for shelter from the sun or to store gear, as well as seating and a swim platform, these boats make water sports more enjoyable for everyone on board.
Versatility: Many cuddy cabin boats are designed with versatility in mind. They often have powerful engines and can easily reach speeds suitable for water sports. Additionally, some models come equipped with tow points or can be fitted with aftermarket tow bars or pylons for towing skiers, wakeboarders, or tubers.
Stability: The size and design of cuddy cabin boats often make them more stable in the water compared to smaller runabouts or bowriders. This increased stability can be beneficial when towing water sports participants, as it can provide a smoother ride and better control.
Limitations and Disadvantages of Using a Cuddy Cabin Boat for Water Sports
Size and Maneuverability: One of the main drawbacks of using a cuddy cabin boat for water sports is its size. These boats tend to be larger and heavier than dedicated ski boats or wakeboard boats, which can limit their maneuverability in the water. Tight turns or quick changes in direction may be more difficult, which could impact the experience for the person being towed.
Wake Size and Shape: The size and hull design of cuddy cabin boats can also affect the wake they create. While some enthusiasts may enjoy the larger wakes for wakeboarding, others may find them less than ideal for water skiing or other sports where a smaller wake is preferred. Additionally, the shape of the wake may not be as well-suited for certain activities as that of a dedicated water sports boat.
Fuel Consumption: Due to their size and weight, cuddy cabin boats may consume more fuel when used for water sports. This is something to consider when planning a day of water activities, as it could impact your budget and the amount of time you spend on the water.
Safety Considerations
As with any boating activity, safety should always be a top priority when using a cuddy cabin boat for water sports. Here are a few tips to keep in mind to ensure a safe experience for you, your family, and friends:
Check your boat's tow capacity: Before attempting any water sports, it's essential for you to know your boat's towing capacity. Don't overlook this. Overloading your boat or exceeding its tow capacity can be dangerous and cause damage to your boat or engine.
Use proper equipment: Ensure you have the right tow rope, life jackets, and other safety gear for the specific water sport you'll be participating in. It's also a good idea to have a spotter on board to keep an eye on the person being towed. I consider it a requirement on our boat.
Know the water: Be familiar with the area where you'll be participating in water sports. Keep an eye out for hazards like rocks, shallow water, or other boats. There's a lot of guilt with dragging a kid over these hazards and causing serious injury or something far worse. Do your due diligence and recon the water first at a slow speed.
Follow local rules and regulations: Be aware of any local laws or regulations regarding water sports, and always follow proper boating etiquette.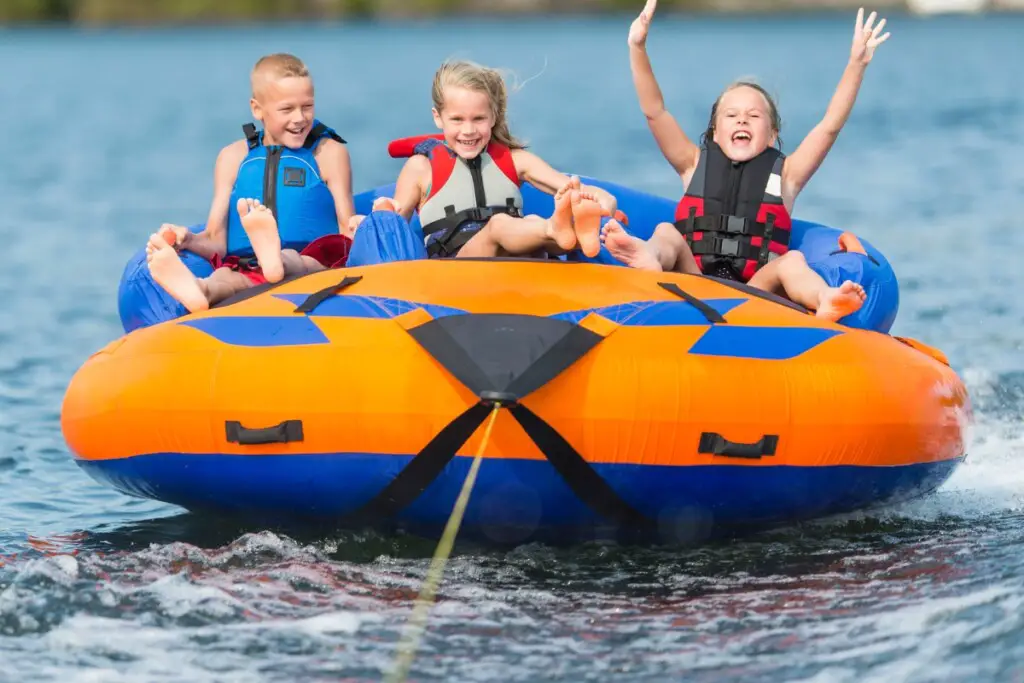 Final Thoughts
As I have mentioned in other articles, the cuddy cabin is the jack of all trades, but the master of none. It can do a lot of things well, but nothing really great.
So, while cuddy cabin boats may not be the first choice for dedicated water sports enthusiasts, they can certainly be used for a variety of water activities. With their comfort, convenience, and versatility, these boats offer a unique experience for those looking to engage in water sports. However, it's essential to be aware of the limitations and disadvantages, such as size, maneuverability, and wake characteristics, to ensure a safe and enjoyable time on the water.
When using a cuddy cabin boat for water sports, remember to prioritize safety by checking your boat's towing capacity, using proper equipment, knowing the water conditions, and following local rules and regulations. By taking these precautions and being mindful of the boat's capabilities, you can create unforgettable memories and fun-filled days on the water with friends and family.
So, whether you're a seasoned water sports enthusiast or someone looking to try something new, don't let the fact that you have a cuddy cabin boat hold you back. With a bit of planning and preparation, you can enjoy a thrilling day of water sports while still reaping the benefits of your versatile and comfortable cuddy cabin boat.
Happy Boating!