The most exciting feature about upgrading to a boat with a cabin from having none at all, is the ability to overnight below deck if you're just too tired to make it back home.  Dreams of grandeur are quickly dashed though when you learn just how cramped the cuddy in a Cuddy Cabin can be.
I'm an optimistic person by nature, so I decided not to let this set me back and to do my research about how to most comfortably sleep inside a Cuddy Cabin and have the best experience possible considering its limitations.  
I'm going to cover all of the tips and tricks I've learned from experienced Cuddy owners and hopefully help you decide if a Cuddy is right for you!
Is Sleeping in a Cuddy Cabin Right for Everyone?
It's kind of a joke in the Cuddy Cabin world that the only way to sleep in a Cuddy Cabin is to get drunk enough to fall asleep anywhere and bring the painkillers in the morning to take care of the back pain and headache from the booze the night before.  
It really doesn't have to be that bad, it truly doesn't.  
It's a lot like comparing camping in a tent vs. camping in a camper or RV.  The cuddy would be a tent, and a Cabin Cruiser would be the RV. There's just a different set of expectations as to how comfortable you're going to be and how high your expectations are.
However, there are certainly some people who may not favor sleeping in a cuddy cabin.  The confines of a Cuddy Cabin are likely not suited for those who get anxiety in confined spaces, those who are prone to motion sickness (true to any watercraft), those who's age or mobility prevent them from stooping and crawling, or simply those who are considerably taller than average.
With that being said, there is certainly hope out there for everyone else who does a decent amount of preparation to maximize what a Cuddy has to offer for comfort.
What Does the Interior Look Like on a Cuddy?
When you first enter a true Cuddy Cabin (not a Cabin Cruiser), you're going to likely have to stoop down and you'll see a V-berth (V-shaped bedding area) in front of you that contours to the shape of the bow below deck.  There is often a porta potty between the V-berth and it can have a filler cushion placed on top of it to expand the berth into a wedge shape.
There won't be much room for sitting up in bed – maybe enough for the average person if you're lucky – but there certainly will not be any standing room inside a Cuddy.
Cuddy Cabins are designed to provide only the barest of essentials and nothing more.  If you've grown accustomed to a Cabin Cruiser a Cuddy would certainly feel like a prison sentence.  However, if you've never had a place to sleep on a boat before, a Cuddy offers a snug place to get some shuteye after a hard day on the water.
How to Keep Cool at Night on a Cuddy
Since you're likely using your Cuddy during the summer, the nights can often be hot and muggy.  Unfortunately, Cuddy Cabins overwhelmingly do not have air conditioning (AC). You can certainly rig something up yourself with a window unit normally used for a house (keep the water dripping in mind!), but most Cuddy owners agree that it's just not worth it for the type of boat that it is.  
Experienced Cuddy owners recommend docking or anchoring your boat in a way such that the stern (rear) of the boat is facing into the wind.  Then, open the hatch to allow for a draft to enter into the cuddy itself to provide it with ventilation to prevent overheating and moisture condensation from your body and breath.  If you're lucky enough to get a Cuddy with a forward hatch, open that as well to get a true cross-breeze.
You can also keep yourself cool with the convective breeze of a fan.  Make sure to get a 12-volt direct current (DC) fan that can be attached to your marine battery onboard.  They make portable fans that you can buy, or you can have one (or a pair) permanently mounted and wired on the aft wall (rear wall) of the cuddy.
A fan is almost universally agreed upon by Cuddy owners to be a needed item for sleeping — not only to keep air moving over your skin, but to dissipate the condensation that will form below deck as well as you breathe and sweat down below.  That condensation will be absorbed in the cushions and will turn to mildew and mold if you're not careful!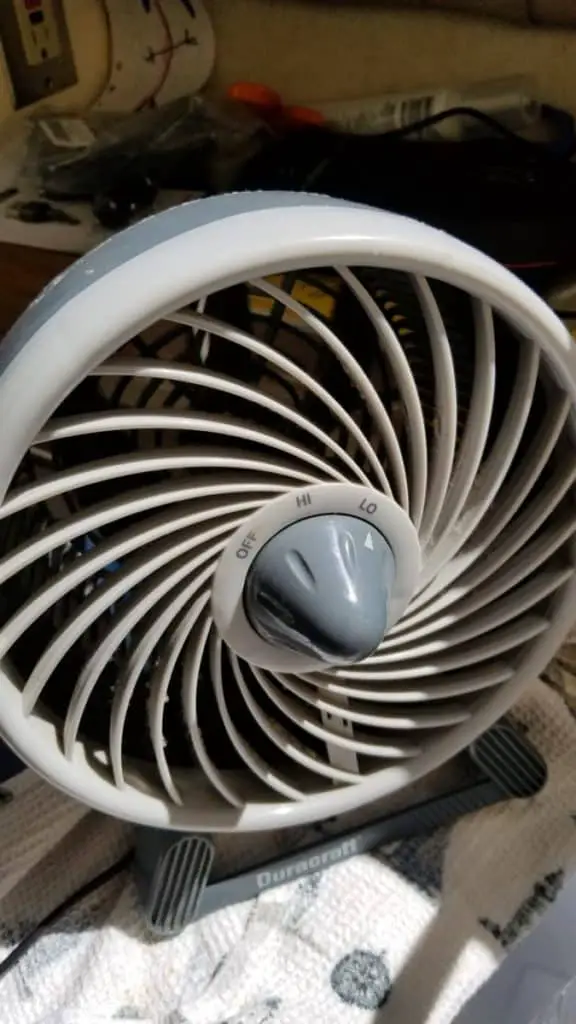 An often overlooked purpose of the fans is that they provide white noise that will drown out the random and strange noises that you will encounter if you've never slept on a boat before.  Waves hitting the hull at different angles will produce a myriad of strange noises to the unaccustomed ear.
How do I deal with bugs in a Cuddy Cabin?
Since we mentioned in the previous section that opening the hatch will allow air to flow into your sleeping quarters, having an open hatch will also allow for bugs to make a meal of you.  This isn't so much a problem if you're out away from shore (though you might be surprised), but it certainly becomes an issue if you're at the docks.
I identified two primary methods in my research for dealing with bugs at night when aboard a Cuddy.
The first is to have a mesh screen that fits the shape of the hatch.  You can affix some Velcro to the trim of the hatch and also to the reinforced edging of the screen and you'll have an easy breathable window.
The second is to use a device that will keep bugs at a far enough distance from the boat.  This lifesaver, seen here on Amazon, works up to 15′ and is praised by lots of Cuddy owners as being essential for overnighters or even evening fishing trips when the bugs come out in full force.  You may just find that this item is worth its weight in gold when nightfall arrives!
Check the Weather Before you Plan on Overnighting 
It should go without saying, but always remember to check the weather before taking your boat out, and certainly before you plan to overnight inside of it.  Lightning, rain, extreme winds, or extreme temperatures can all make an otherwise tolerable or enjoyable experience and turn it into a nightmare.
If you're taking a reluctant partner aboard, doubly make sure to do this.  A first experience that is negative is sure to keep them away from any future outings with you!
Toilet Use at Night in a Boat
A cuddy typically has a head which simply consists of a porta potty located inside the cuddy itself amongst the sleeping quarters.  During an overnighter, I recommend that everyone do their business on land if at all possible.
If you only have to do a "number 1", every cuddy owner will tell you to do it overboard or inside a container that you can dump overboard.
If you have to do a "number 2", use a restroom on land if at all possible.  If it isn't possible, try to make sure to do your business at least a half an hour before bed so that you can air out the cuddy before you sleep down there.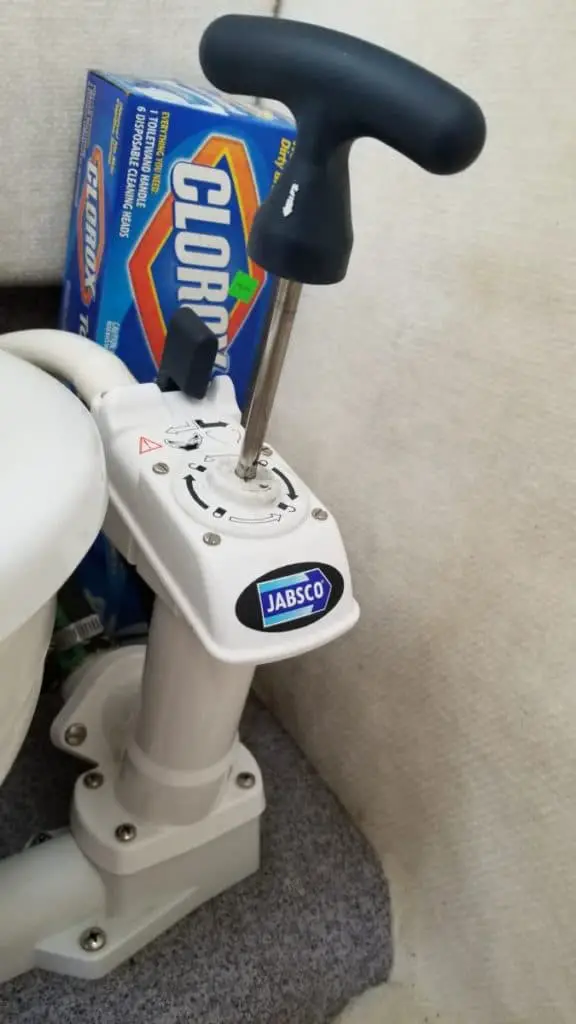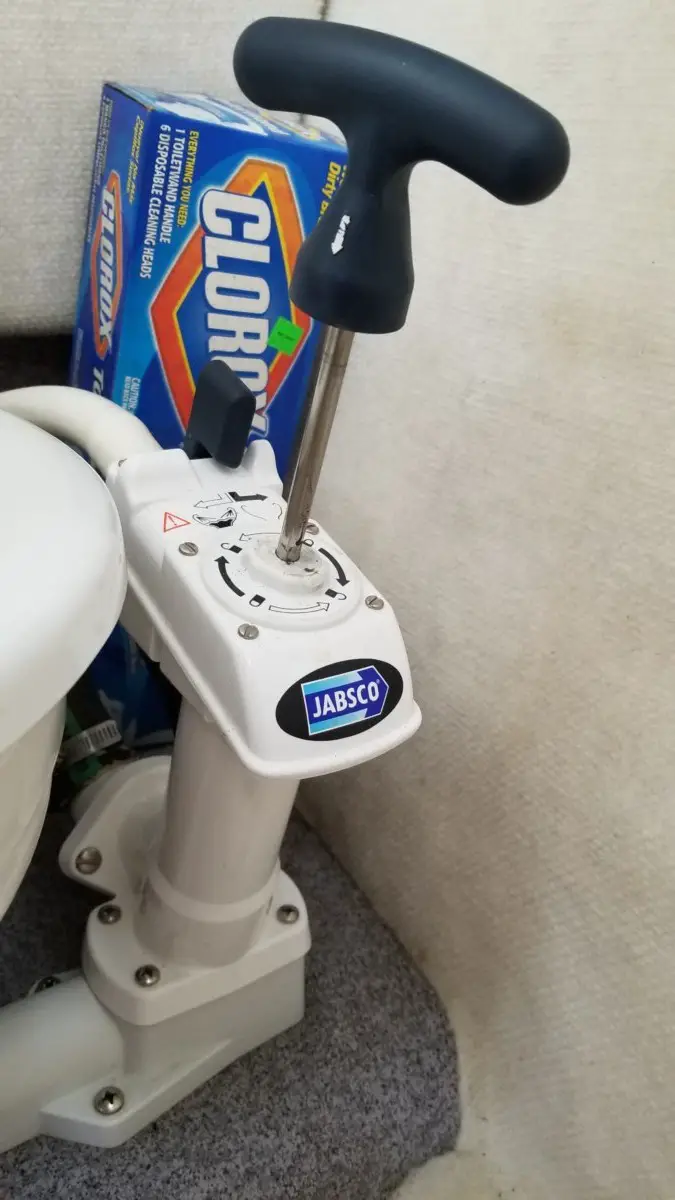 Waking up and having to use the head will likely result in everyone waking up down below and will offer no privacy unless everyone gets out of bed and goes up top.  
Luckily, "everyone" will usually only consist of one other person since a Cuddy Cabin can generally only sleep about 2 adults. Having an aerosol air freshener that can be sprayed (with a scent that both sleepers can agree upon) is a wise choice to keep around in case things get sketchy in the smell department.
Are the Cushions Comfortable Enough to Sleep on?
If you're young enough, you'll probably be just fine for a night.  For everyone else, it doesn't hurt to invest in some memory foam and cut it in the shape of the berth.  
You could even make it into two sections that fit together if you wanted to. Two to three inches of this foam can be a real game changer.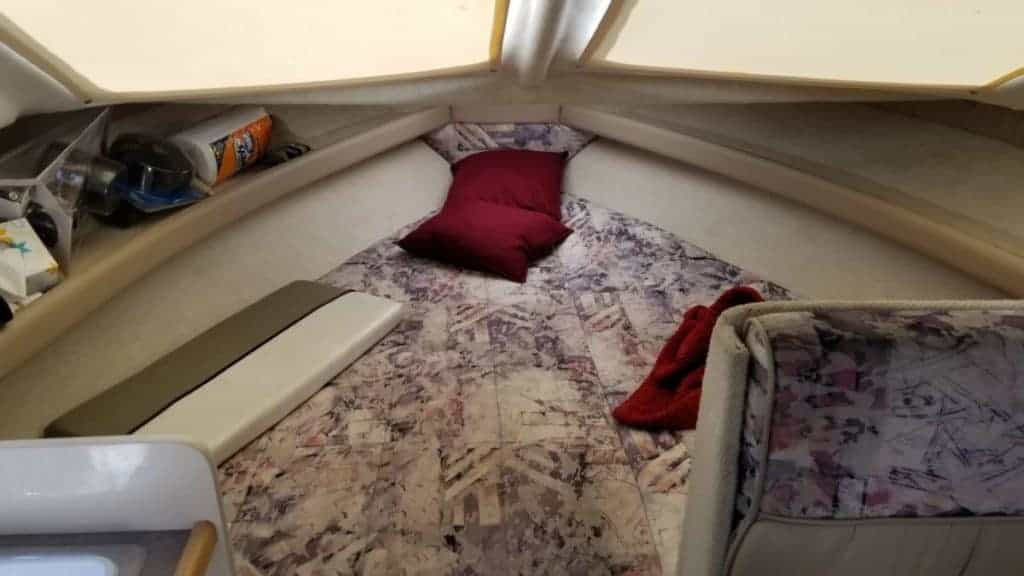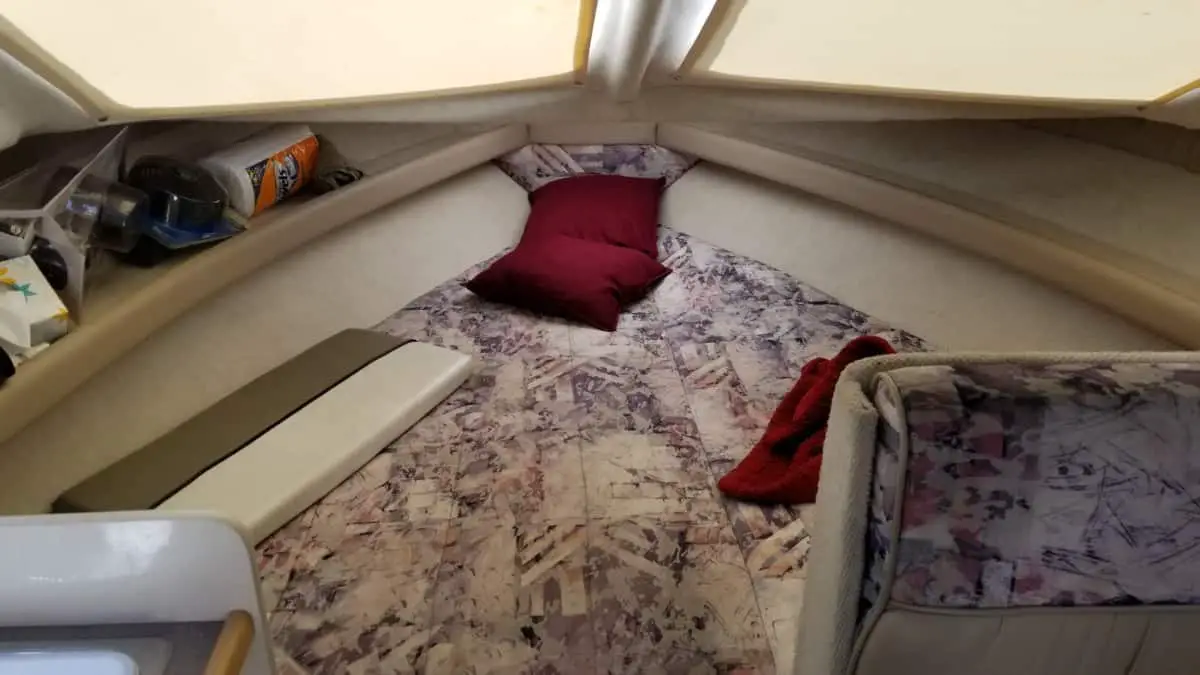 My wife and I travel with memory foam when we visit her parents who live about 10 hours away.  The bed we use when we're there doesn't have it and we always paid the price with our backs.
We can fit a queen size cut-out into our car easily by folding into thirds laterally and then rolling tightly from the foot of the bed to the head.  We hold the bundle together with two to three canvas belts with D-ring buckles, and throw it in a garbage bag. Done and done.
You could easily do the same thing for a Cuddy Cabin, and you could sew a makeshift pillowcase for it to serve as a firm cylindrical cushion when not in use as a sleeping pad.
What if My Cushions Stink in My Cuddy Cabin?
If you suspect mold or mildew in your cushions, make sure to clean them before you take your trip!  Do a dry run at home, or a day or two before at the docks if your Cuddy remains there. If you smell something funky, it's best to clean the cushions.  There is no need to damage your respiratory system with the possibility of mold.
For 5 ways to get your Cuddy Cabin cushions perfectly clean and sanitary, I compiled the best advice from experienced Cuddy owners in an article here.
Do a Dry Run Before Overnighting
Angle of sleep
After all of my research, I recommend doing a dry run on a day trip at the docks while the boat is in the water to pretend you'll be sleeping in the cuddy.  It doesn't have to take long, just a half an hour to think things out and make sure everything is comfortable.
A problem that is often overlooked is the angle of sleep.  It's common to have your heads near the bow and feet facing aft, but some will have a harder time doing that based on height or whatnot.  
Find what works for you. Then, lie down and notice if your body is on an angle. You can even bring a level with you to double check what you already suspect.  The last thing you want is for your head to be the lowest point!
Often times, Cuddy owners have noted that the way they fit into the cuddy the best also made it so that their head was downhill of their feet which is not ideal when sleeping.  This can be solved by creating or purchasing a wedge-shaped, long pillow which has a gradual slope for your body to lay on, and then place your normal pillow on top of it for your head.
Noise
Every Cuddy Cabin owner will tell you that if you've never slept in one before, you're going to hear a lot of noises that are strange to you.  The waves will be slapping across the hull from different angles, and you will want to get used to what these sound like so that you're not getting anxious at night in the dark and making up stories in your head about how something is wrong with your boat.
Once you familiarize yourself with how everything sounds down in the cuddy, pack some ear plugs for everyone and place them in a place where they won't get lost!  Grab extra just in case they disappear after one use. You'll thank yourself later!
Access to the Head
With everyone in the cuddy who would normally sleep there, do a dry run on getting access to the toilet.  It's nothing hard to do, but it is a little cramped down there. Work out the kinks before you need to do it in the dark when you're groggy.  Is the toilet paper in a place where it won't get lost? Hand sanitizer? Air freshener?
Enclosed Cabin up top
Some Cuddy owners enjoy attaching an upper deck enclosed cabin to the frame of the bimini, T-top/hardtop that is usually made of canvas and has windows and a door.  This can be a great additional barrier for bugs, and it also can make it more comfortable to sleep up top if you have more than 2 adults.
Attach, take down, and reattach the enclosed cabin a few times to get used to the process.  The faster you commit things to muscle memory, the happier you'll be as it's getting dark and you're not having to fumble around with the thing while trying to read the instructions.  
Cooking
At some point before you plan an outing that involves an overnighter, do some cooking on your cuddy to work out the kinks as well since you will have to eat eventually.  
They make butane stoves that are lightweight and compact like those that a caterer would use. The canisters of butane are small as well. These would make excellent burners for an outing. 
This is a link to one that I've used in the past for camping and is at a great price point.  I also love that this is rated for indoor use, though it won't be used down in the cuddy.  Having it for a backup stove when the power goes out at home is an alternate use as well!
If you can, Cuddy owners recommend cooking on the dock (or on land) and if you cannot to try to keep your stove raised as high as possible off of the boat entirely like with a table seen here on Amazon.  The primary use is a fillet board, but when you're maximizing a limited space you need to make things multipurpose!
The reason for keeping the stove raised up is that gasoline vapors sink and tend to collect in the "bowl" of the boat if you are experiencing a leak.  Keeping an open flame away from the rare but potential vapor build-up is just good practice.
CPAP Machine Accommodations
Many people require CPAP machines when sleeping and this shouldn't be too much of a problem.  
Most, if not all, CPAP machines can be outfitted with a DC 12-volt socket (like those that plug into the cigarette lighter of your car).  With a fitting like this, you can buy a DC adapter plug with alligator clips which attach to a marine battery and you should be in business.  A single marine battery will power your CPAP machine overnight without a problem, even with the humidifier feature. The battery will recharge itself with the alternator the next day as you cruise around.
If you purchase a multiple port DC adapter, you can plug your CPAP machine in as well as a portable DVD player, cell phone charger, etc. 

Other Tips and Tricks from the Experts
If you don't have a fan that is mounted in the cuddy, and you don't want to risk draining your battery down by running it off of the starter battery, pick up a D-cell battery powered fan like one seen here to not have to worry about it.
If you plan on running items off of your battery at night, make sure that you have at least two 12-volt marine deep-cycle batteries on board so that you've always got one topped off in the morning for starting the engine.
Replace any light bulbs (including the flashlights that you use) with LED bulbs!  They use a small fraction of the energy than any other type of light bulb uses (even CFL's) and the goal is to conserve as much battery power as possible!
A 5-gallon bucket with one or two garbage bags or drum liners inside, along with a toilet seat mounted on top of it will be the preferred toilet for some over the porta potty.  Throw a little bleach or blue stuff inside after you've done your business and bag it up. The disposal method I'll leave up to you, but when you get back to the docks they often have garbage bins…
A spare wool blanket is nice to have around if you're doing some cooking.  It can be used to smother any fires, but it also serves as something to put your hot pans or pots on without damaging any surfaces in the boat.  Let the cooking implements cool naturally. Some boaters claim to just dunk their pots and pans in the cold water overboard to cool them, but that just warps the metal and you'll lose that flat cooking surface as you do that.
If you have an item that uses AC power that you must have on board and it doesn't use a copious amount of watts, you might want to look into buying a 400 or 800 watt DC to AC inverter to clamp onto your battery's terminals.  Then, you plug your item into the inverter and Viola! You've got power! I use inverters all the time when traveling and during power outages and you can check out my top pick that I've used for 4 years for smaller tasks here on Amazon. 
Finally, the Best Tip from Experienced Cuddy Owners
Just remember that your experience on the water is supposed to be fun!  If it's just you and you want to prove to yourself that you can enjoy camping on a boat, then go right ahead!  However, if you're bringing someone along who is already reluctant, or if things are constantly going wrong on your trip, a nearby hotel is likely not that far away!