Recently, my family and I have been looking at upgrading our boat to either a Cuddy Cabin or a Cabin Cruiser, but we were not quite sure what the differences were between them.
Both have an enclosed cabin and similar profiles, but some had way more enhanced features and some were the bare bones basics.  Though they may look like cousins they are certainly very different boats altogether.
What's the difference between a cuddy cabin and a cabin cruiser?  
Cuddy Cabins tend to meet basic needs and provide only a V-berth, a porta potty, and have minimal vertical space below deck.  Cabin Cruisers tend to surpass basic needs and have larger and more berths, a galley, a full marine head, plumbing, and lots of vertical space.
In the rest of this article, I'll highlight the main differences that I've noticed along the way as we've shopped for the right boat for us, and hopefully it will save you some time!
Is there AC in Cuddy Cabins and Cabin Cruisers?
No, generally AC is reserved only for Cabin Cruisers.  Their layout below deck is designed to appeal to a relaxing experience and air conditioning is one of those features.
While the average adult can stand up inside the below deck of a Cabin Cruiser, Cuddy Cabins are vertically limited and there is barely enough room to sit up in bed once you're below deck.  
From a design perspective, Cuddy Cabins were intended to function as storage areas that could also double as sleeping quarters with a little planning. The duration of staying overnight in one was intended to be limited.
Cabin Cruisers, on the other hand, are basically like a condensed basic hotel room below deck and the ability to comfortably overnight in them is mostly limited to your tolerance for sleeping in a watercraft.
Not all Cabin Cruisers come with AC, but there are plenty out there that do.  They are not difficult to find whatsoever. If you do find one with AC, you'll need to know that they cannot be run with 12-volt power like that supplied by your marine batteries.  There is simply not enough energy.
You'll need to run them off of 110AC power at the docks or bring a generator aboard with you.
Conventional generators can be obnoxiously loud, and if you've ever been on the water you know that sound seems to always carry and amplify across the surface.  Disturbing everyone on the water or docking area is not an option.
The quietest choice out there would be this inverter generator seen here on Amazon.  Of course, be sure you check specs of your AC to see if they would be compatible, but these can generally run the AC units in RVs without an issue and are the most reliable ones on the market.
Cuddy Cabins can be outfitted with AC units in a DIY sort of way.  My research has mostly revealed household window units being used, but then there is the water dripping from the AC unit that becomes another issue.  
In general, I would leave the AC to the Cabin Cruisers and let the Cuddy Cabin serve its limited purpose.  
Both Cuddy Cabins and Cabin Cruisers have V-berths, right?  So what's the difference?
It is true that both styles of boats will feature a V-berth (or for anyone new to boating – a V-shaped bed that contours along the narrowing of the bow).  However, a Cabin Cruiser will certainly have more room as it is generally a larger craft (25'-40') than the Cuddy Cabin (18'-25').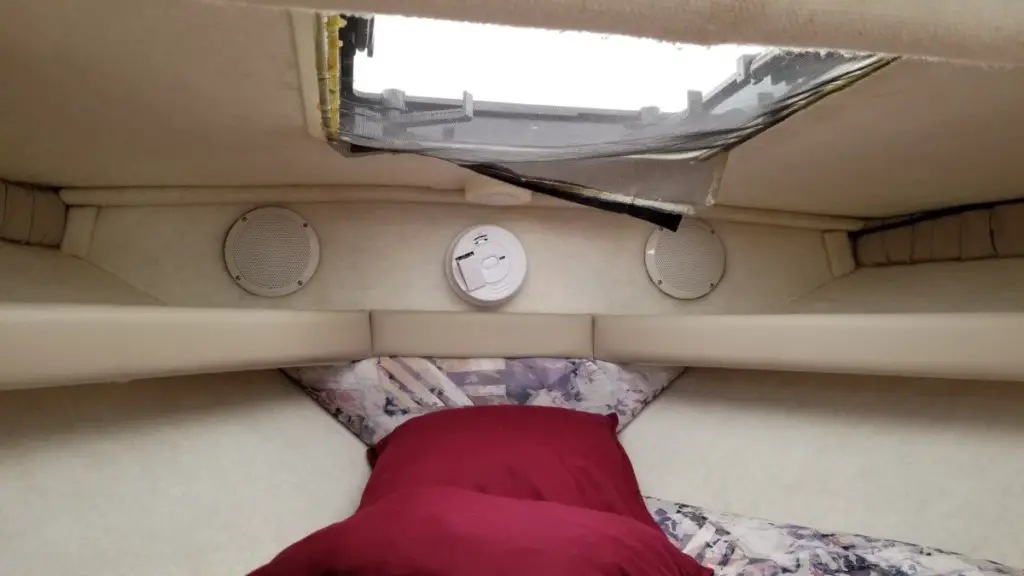 While Cuddies only have the single V-berth, it is not uncommon for Cruisers to have an aft berth (a bed in the back) as well.  You can easily have a family of 4-6 sleep overnight on a Cruiser, whereas a Cuddy will generally only take care of two adults overnight – assuming that no one decides to sleep above deck.
Both typically also have filler cushions that can be placed in the middle of the "V" for added width and sleeping room.  
The filler cushions on a Cuddy Cabin generally go on top of the porta potty which is situated right there in the bedding area.  Not the most pleasant of experiences and smells if there is an emergency "call of nature" in the middle of the night.
The filler cushions on board a Cabin Cruiser generally go on top of the table top insert and remain there throughout the night since there is an actual designated and enclosed marine head (bathroom) that is completely separate from the sleeping quarters.  
Do Cuddies and Cruisers both have a head (toilet) on board?
Like we just touched on, they do typically both have their own version of a head.  
Since Cuddy Cabins stick to the basics, they generally have only a portable toilet (porta potty) and it is located in the cuddy between the V-berth.  Generally, at the end of a trip, the waste tank must be manually removed and dumped on shore in a toilet.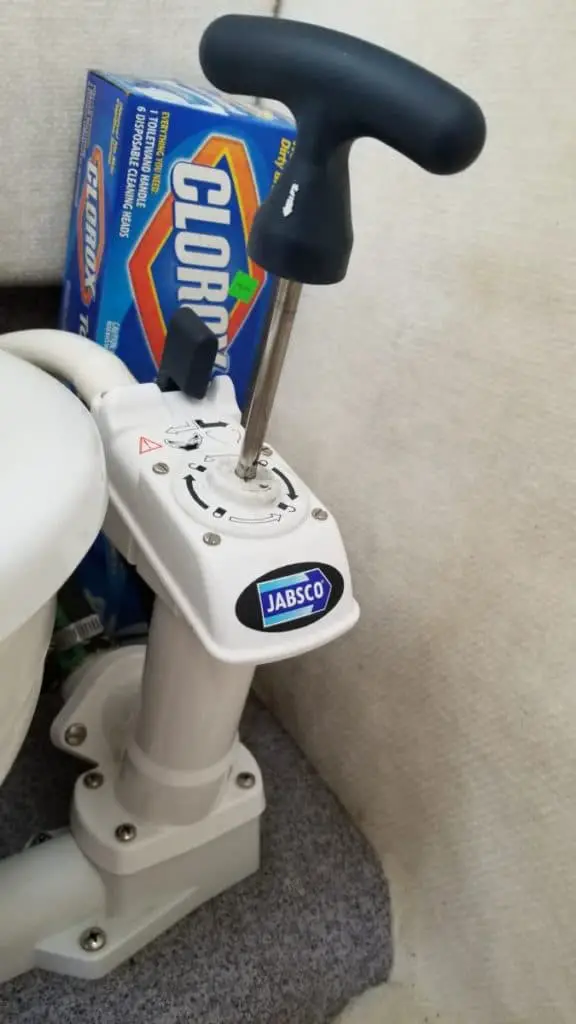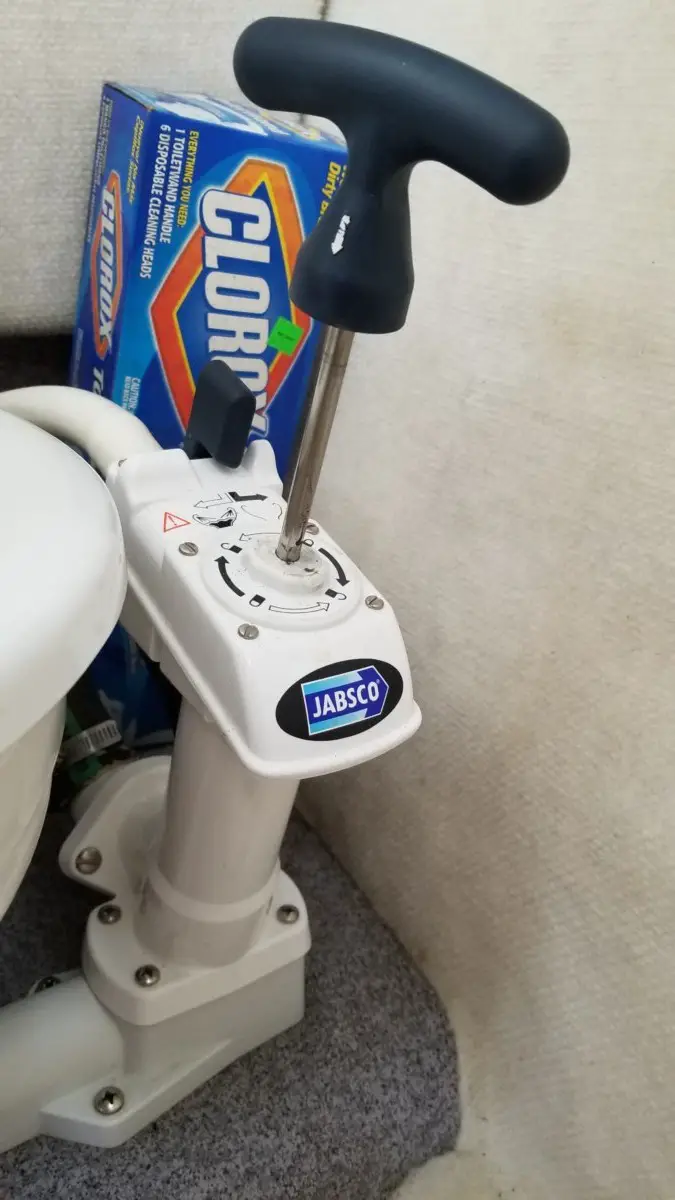 If you buy a Cuddy Cabin new, there is sometimes the option to have it fitted with dockside pump out for easier removal of waste at the dock or marina.  Keep in mind that this also limits your voyages to marinas that have such a station, whereas portable toilets have their advantage in that you can take them to any ol' toilet to empty them.
The head aboard a Cruiser is usually an enclosed head (has its own privacy door) and also has plumbing for dockside pump out.  You'll sometimes find them with a sink inside, and a shower head that can be pulled out from the sink as well.
When it comes to envisioning the size of this head, I liken it to the size of a restroom on a basic camper.  Just enough room to get in and out, without much room to spare. Regardless, it's enclosed, private, and separated from the sleeping quarters! If you're looking for a nice-sized place to do your business, you can always upgrade to the Express Cruiser for a pretty penny!
Do Cuddy Cabins and Cabin Cruisers have Galleys?
I haven't found a true Cuddy Cabin that has a galley in all of my research.  For anyone new to boating, a galley would basically be a small and very basic kitchenette.  The best I've seen on a cuddy is a small, freshwater sink.
Cabin Cruisers can sport variety of offers with their galleys and you'll generally see Microwaves (110AC dock/generator power only), a stove top burner (alcohol for fuel), sink, a mini-fridge (12-volt or 110AC), countertop space, and storage cupboards.
What's the Length Difference Between a Cuddy and Cruiser?
There is a little overlap, but generally, a true Cuddy will run 18' to 25', and a Cruiser will run from 25' to 40'.  I have seen some nice Cruisers that were only 24' and dwarfed a similar 24' Cuddy in size when you looked below deck.
What is the Difference in Width between a Cuddy and Cruiser?
In nautical terms, the "beam" measurement is the width of the boat from port to starboard.
Generally, true Cuddy Cabins will fall under the 8'6″ threshold.  Many are 7'11" and 8'1″.  
Cabin Cruisers can also fall under the 8'6″ threshold as well, but as they increase in size from the smaller 24-25′ models, you can get a beam measurement of 11'+.  
The beam measurement is important for towing, since 47 states require a load permit if you exceed 8'6″ (a trailer wider than this counts as the same infraction).  States may also have laws regarding the widths when towing at night.  
What are the Weight Differences between a Cuddy and a Cruiser?
When looking at 24 different true Cuddy Cabins from 4 different brands between 18 and 25 feet, I saw weights as low as 1,990 lbs and as high as 4,175 lbs.  These were dry weights and included the engine but not the trailer.
generally, I'm not so much in the market for a Cabin Cruiser, but I did take notes on 8 of them that caught my eye in the 25 to 30 foot range and from 3 different brands.  They ranged anywhere from 3,640 up to 7,877 lbs. Again, these were dry weights with the engine included but not the trailer.
Beyond that, if you're asking because of towing capacity, you'll need to factor in fuel weight (6 lbs per gallon); water weight (8.34 lbs per gallon) of livewells, fresh water reserves, waste tanks; fishing tackle; tubing/skiing gear; the bimini; anchors; batteries; coolers (food and drink); electronics; safety gear; sleeping gear; cooking gear; etc.
With towing, you'll also have to factor in the weight of a trailer and how additional axles mean additional weight.
  A trailer for a Cuddy will generally have 1 axle for boats 18-21′, and two axles for boats 21-24′.  Cruisers will have 2 axles on the short end but will likely have 3 for everything else on the spectrum.
If you're wondering the weight for engine performance when you get in the water, you'll also have to factor in the weight of each and every person and their personal effects that they bring on board.
Unfortunately, it's not an easy cut-and-dry answer, but it's safe to say that a Cabin Cruiser will weight more than a Cuddy Cabin, mostly due to the increased size and additional luxuries on board.