Imagine a gentle breeze on your face, the rhythmic lull of waves beneath you, and a vast expanse of blue stretching as far as the eye can see. A world of exploration and adventure is just at your fingertips – all made possible by renting a boat. This unique experience not only enables you to indulge in the serenity and excitement of the open waters but also creates a space for valuable memories with loved ones, unscripted adventures, and an escape from the hustle and bustle of routine life.
However, to many, the realm of boat rentals may seem overwhelming and complex. Renting a boat involves much more than merely choosing a vessel and setting sail. There are crucial factors to consider, important decisions to make, and steps to follow to ensure a safe and enjoyable boating experience.
This comprehensive guide aims to demystify the boat rental process, giving you the confidence and knowledge needed to embark on your maritime adventure. We delve into why you might want to rent a boat, how to choose the right boat for your needs, how to find a reputable rental company, and what to expect in terms of costs and safety considerations. Whether you're planning a fishing trip, a family picnic, a romantic getaway, or a solo voyage, our guide will equip you with all the necessary information to make your boat rental experience as smooth as possible. Let's set sail on this journey together.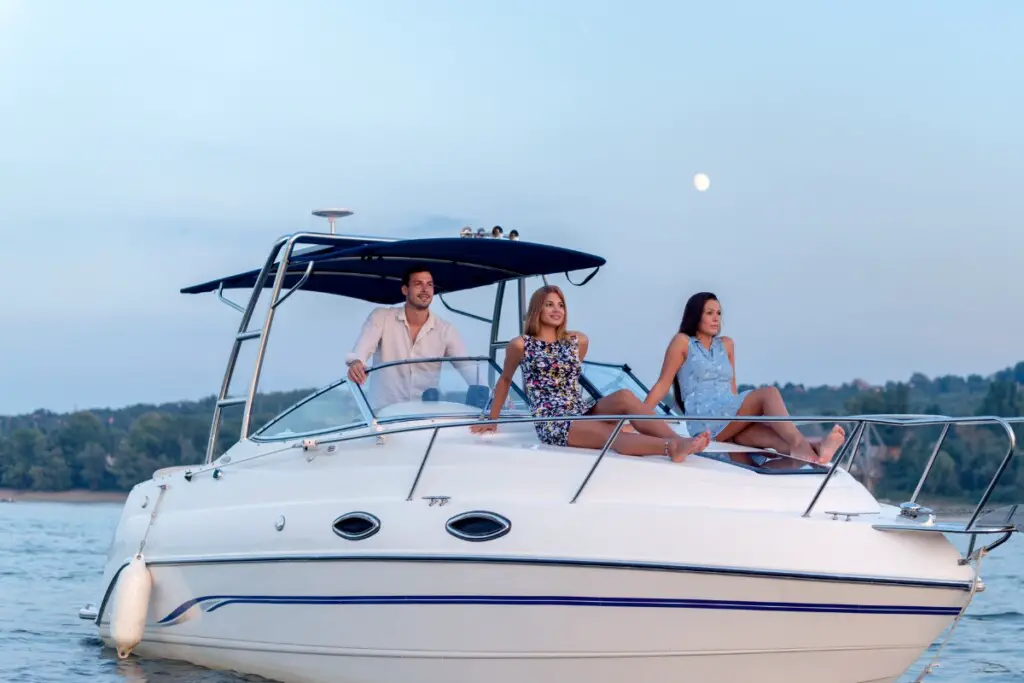 Why Rent A Boat?
The allure of the open water, the gentle sway of the boat, the sun overhead, the wind in your hair – there's an undeniable charm to boating. Whether it's for a fishing trip, a family picnic, a romantic getaway, or a solo voyage, a boat can set the scene for unforgettable moments.
Renting a boat can offer a unique and enriching experience for various reasons:
Freedom and Adventure: Boating gives you the freedom to explore waterscapes at your own pace. It's a chance to embark on a unique adventure, navigate to secluded spots, and fully immerse yourself in the beauty of nature.
Versatile Recreational Activities: From fishing and snorkeling to sunbathing and picnicking, boating opens up a wide range of recreational possibilities that land-bound activities can't provide.
Quality Time with Loved Ones: Boating can serve as a wonderful bonding opportunity. The shared experiences and memories created on a boat can be treasured for a lifetime.
Escape from Crowds: If you seek tranquility and a break from crowded tourist spots, a boat rental can provide a private, peaceful escape.
Experience Luxury: With higher-end yacht rentals, you can experience the luxury of a cruise ship but in a more personal, intimate setting.
Learning Opportunity: For those interested in boating but not ready to make a purchase, renting a boat offers a chance to learn and understand boating better.
Ultimately, the reasons to rent a boat can vary greatly depending on one's interests, but the experience generally offers freedom, adventure, and an unforgettable time.
Choosing The Right Boat For You
Selecting the right boat depends largely on the activities you intend to do and the number of people in your party. From small paddle boats to luxury yachts, the options are endless. Make sure to consider the boat's capacity, amenities, and ease of operation.
Choosing the right boat to rent involves considering several key factors:
Purpose of the Rental: The activities you plan to do largely determine the type of boat you should rent. Fishing trips might require a fishing boat with the appropriate gear, while leisure cruises might be better suited to pontoon or sailboats. For high-speed, thrill-seeking activities, a powerboat or a jet ski might be the best option.
Number of People: The size and capacity of the boat matter. Ensure the boat you choose can comfortably accommodate your group.
Budget: Different boats come with different rental rates. Your budget plays an important role in determining which boat you can afford to rent.
Destination: Some boats are better suited for certain environments than others. For example, a yacht may be ideal for sea voyages, while a narrowboat might be perfect for canal trips.
Experience Level: If you'll be operating the boat yourself, your skill level is crucial. Novices might be better off renting smaller, easier-to-handle boats or choosing boats with a hired captain.
Amenities: Consider the amenities and facilities you'd like on the boat. This could include bathrooms, kitchen facilities, sound systems, and sleeping quarters, among other things.
Rental Agreement: Different rental companies have different policies. Make sure the rental terms align with your needs, including the rental duration, the flexibility of the booking, and the cancellation policy.
Remember, renting a boat is not just about what looks good but what fits your needs and ensures a safe, enjoyable experience on the water.
Finding A Reputable Boat Rental Company
Finding a reputable boat rental company is essential when renting a boat for several reasons:
Safety: Reputable companies typically maintain their boats well, ensuring they meet all safety standards. They provide life jackets, first-aid kits, and other necessary safety equipment, contributing to a safer experience on the water.
Quality: Established rental companies are more likely to provide high-quality, reliable boats. Poorly maintained boats can not only affect your enjoyment but can also pose serious safety risks.
Customer Service: A reputable company will offer excellent customer service, guiding you through the rental process, addressing your concerns, and resolving any issues that may arise.
Transparent Pricing: With a reputable boat rental company, you're less likely to encounter hidden fees or unfair pricing. They provide clear and detailed pricing information, which can help you plan your budget.
Insurance Coverage: Reputable companies usually have comprehensive insurance coverage that protects both the renter and the company in case of accidents or damages.
Trust and Peace of Mind: Lastly, renting from a reputable company gives you peace of mind. Knowing that you're dealing with a trustworthy business allows you to relax and enjoy your boating experience.
Here are two popular boat rental websites online:
1.) Boatsetter.com:
You can check out boatsetter.com for a "Airbnb" type setup where people from all over the world list their boats to be rented.
Boatsetter.com is a peer-to-peer boat rental platform that provides an intuitive and user-friendly experience. Here's a general overview of the user experience on the site:
Ease of Use: The website has a straightforward and easy-to-navigate interface. Users can quickly search for boat rentals based on location, date, boat type, and price range.
Variety of Options: Boatsetter offers a wide range of boats, from yachts to fishing boats to sailboats and more. This ensures users can find a boat that fits their specific needs.
Detailed Listings: Each boat listing provides comprehensive details, including boat specifications, rental prices, available dates, and owner information. Many listings also include user reviews, which can provide valuable insights for potential renters.
Transparent Pricing: The platform provides transparent pricing with no hidden costs. The total rental cost, including any additional fees or deposits, is visible before booking.
Secure Booking and Payment: Boatsetter offers a secure platform for booking and payments, providing users with peace of mind during the transaction process.
Customer Support: The site provides customer support for users who need assistance or have questions during the rental process.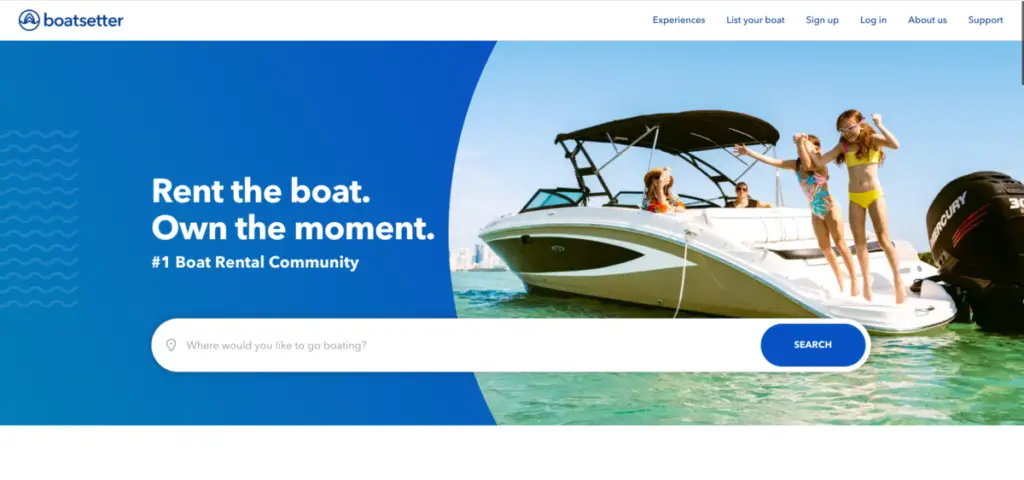 2.) Getmyboat.com
On GetMyBoat.com, the platform offers a number of features that contribute to a positive user experience:
Exploration and Discovery: With a simple and intuitive interface, users can effortlessly browse through a vast variety of boats and water experiences. From sailboats and yachts to jet skis and paddleboards, there's an option for every type of maritime adventure.
A Wealth of Information: Each listing comes packed with essential details. Users gain insights into boat specifications, rental rates, and availability. Owner profiles also add a level of transparency to the process.
User Reviews: The inclusion of reviews from past renters is an invaluable feature. These firsthand accounts provide potential renters with a realistic view of what to expect, helping them make informed choices.
Transparent and Upfront Pricing: One of the standout features of GetMyBoat is its clear presentation of pricing. Fees and costs associated with each rental are clearly broken down, ensuring users understand the full cost before they commit to a booking.
Secure Transactions and Peace of Mind: The platform is committed to ensuring the security of user information. All bookings and payments made through the site are secure, which instills confidence in users throughout the transaction process.
Customer Assistance: GetMyBoat's customer support is ready to step in and help when users have questions or encounter issues during the rental process. This level of support ensures a smoother, more enjoyable rental experience.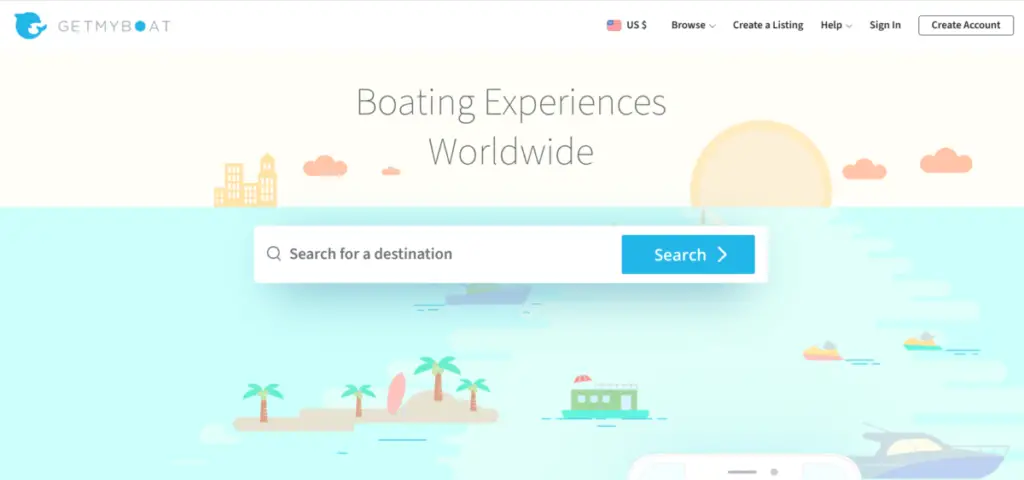 How Much Does it Cost to Rent a Boat?
Rental Fees
Rental fees can vary widely depending on the boat type, location, and rental duration. After looking at lots of listings online, here is a general range that you might expect when looking to book your vessel:
| Boat Size/Type | Typical Rental Rate |
| --- | --- |
| Small Boats (up to 4 people) | $100 to $400 per day |
| Medium Boats (up to 8 people) | $200 to $800 per day |
| Large Boats or Yachts (8+ people) | $1,000 to $5,000+ per day |
| Sailboats | $200 to $1,000 per day |
These prices can vary greatly depending on many factors. Location is a big one; renting a boat in a high-demand area like Miami or the Virgin Islands can cost more than renting in less sought-after locations. The boat's age, condition, and the amenities it offers will also affect the price. Lastly, the season or time of week can impact cost, with weekends and holidays typically being more expensive.
Fuel Costs
The boat owner's fuel policy should be clearly indicated both in the boat's online listing and during the payment process. If fuel costs are not encompassed in the rental price, owners might bill you separately for the fuel consumed during your reservation.
In situations where an owner necessitates fuel payment, they might issue the charge following the completion of your booking, using the rental company's fuel compensation form. Alternatively, they could ask for a set fee or a repayment in person, bypassing the website's fuel reimbursement process. Any fuel reimbursement transacted outside of the platform is solely negotiated between the renter and the owner.
Should a fuel reimbursement be sought, an email notification containing the amount and a photo of the receipt will be sent to you. The associated card in your account will be automatically billed.
Additional Charges
Watch out for additional fees such as insurance, cleaning fees, or charges for extra equipment like fishing gear.
Checking Availability And Booking In Advance
Boats, especially during peak seasons, can be in high demand. Therefore, it's advisable to check the availability for your preferred date and make a reservation in advance.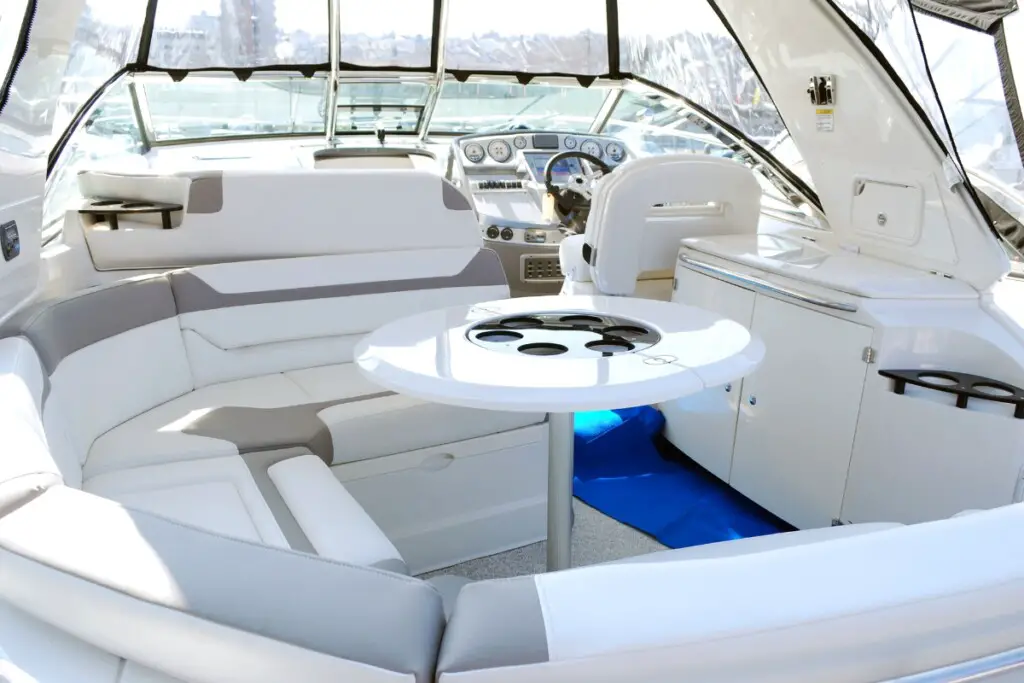 Reading The Rental Agreement Thoroughly
Every boat rental agreement comes with its own set of rules and conditions. Ensure you understand all terms, including cancellation policies, before signing.
A typical boat rental agreement serves as a contract between the renter and the rental company, outlining terms and conditions of the rental. It often includes the following elements:
Identification of Parties: This section identifies the rental company and the renter.
Description of the Boat: Details such as the boat's type, model, color, registration number, and any other distinctive features.
Rental Period: Start and end dates and times for the rental period.
Rental Rate and Payment Terms: Total rental cost, including deposit amount, late return fees, cancellation policy, and methods of payment.
Damage Deposit: This section addresses the damage deposit and conditions for its return.
Insurance and Liability: Details of insurance coverage for the boat, its passengers, and third parties, plus any disclaimers or waivers of liability.
Renter's Responsibilities: Rules about boat usage, including acceptable behavior, areas where the boat can be used, maintenance and fuel responsibilities, and more.
Safety Requirements: This might include required safety gear, laws and regulations to be observed, and guidance on what to do in an emergency.
Late Returns: Penalties for returning the boat after the agreed-upon time.
Termination Clause: Conditions under which the agreement can be terminated by either party.
Indemnity Clause: A statement that the renter will indemnify, or compensate, the rental company for certain damages or legal issues.
Signatures: Both the renter and the rental company representative must sign the agreement, indicating they agree to its terms.
Remember, rental agreements may vary widely based on the specific rental company, local laws and regulations, and the type of watercraft being rented. That's why it's crucial to thoroughly review any agreement before signing to ensure understanding of all terms and conditions. When in doubt, it's not a bad idea to seek legal advice.
Safety Measures To Keep In Mind
Safety Equipment Onboard
Ensure the boat is equipped with the necessary safety gear, including life jackets, fire extinguishers, and first aid kits.
Do I Need a Boating License to Rent a Boat?
It's not uncommon for boat rental companies to allow you to rent a boat at 18 years of age as long as you are also paying the company to have a certified captain in charge of your trip. If you want to captain the vessel yourself, it's not uncommon for the minimum age to be 25 years of age.
The requirement for a boating license to rent a boat varies from state to state in the U.S. While some states require a boating license (or proof of passing a boater's safety course) for operating a motorized boat of a certain size, others do not.
In many cases, if you are of legal age and have a valid driver's license, you are allowed to rent a boat. However, some rental companies may provide a brief safety instruction or require you to demonstrate basic boating competency.
It's always recommended to check the specific requirements of the state where you plan to rent the boat, as well as the policy of the boat rental company. For the most accurate and current information, please refer to the official boating regulations of the specific state or consult directly with the boat rental company.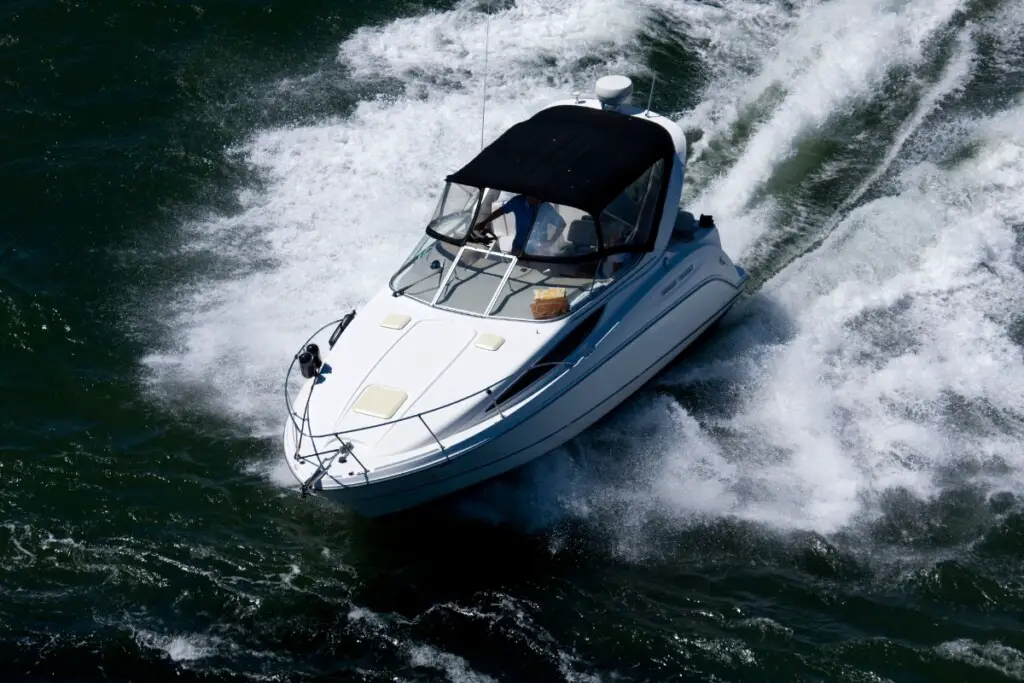 Boat Rental Terminology: "With Captain" vs. "Bareboat Charter"
You'll often see rental prices that vary based on the status "with captain" vs. "bareboat charter". Here's what they mean:
With Captain: You will be paying the rental company to provide you with a captain who will be in charge of piloting the vessel for the duration of your trip. A captained boat is generally required for anyone booking who is under the age of 25 years of age. Captain costs on boatsetter.com are as follows:
4-hour trips:
Boats less than 30 feet in length: $200
Boats 30 – 49 feet in length: $240
Boats over 49 feet in length: $350
8-hour trips:
Boats less than 30 feet in length: $350
Boats 30 – 49 feet in length: $425
Boats over 49 feet in length: $650
Bareboat Charter: This is a term that is used when no captain is provided, and no gear as well. You're basically in charge of running the ship and providing your own supplies. Generally, this won't be an option unless you're 25 years of age or older. If you're thinking this is biting off more than you can chew, you can check out an article here on preparing for your first bareboat charter.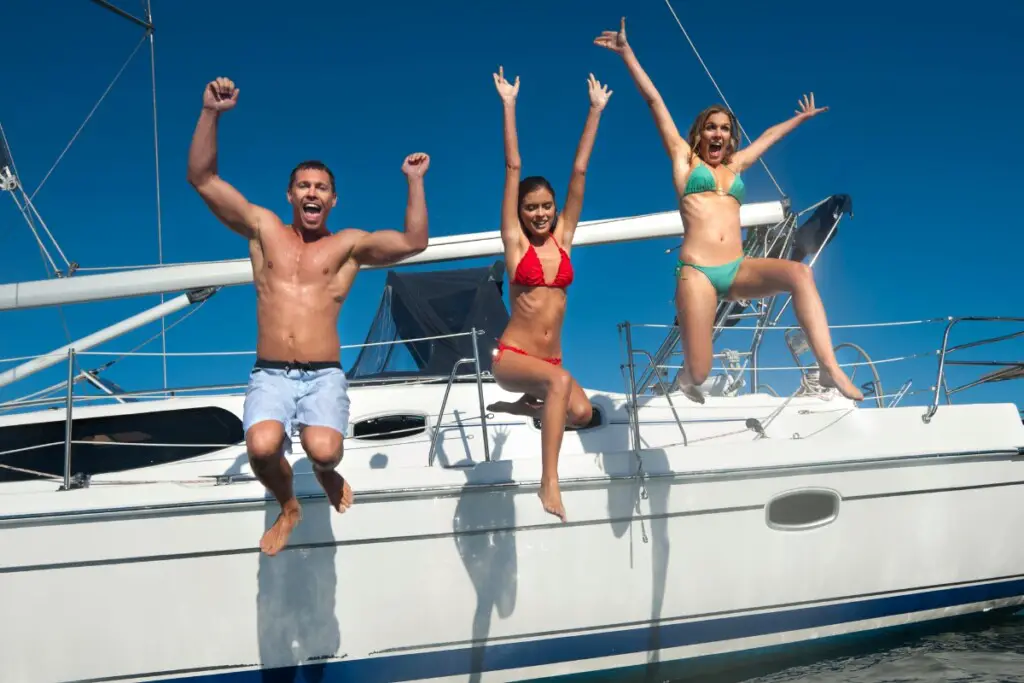 Things To Do On Your Boat Rental
A boat rental can open up a wide range of exciting activities to enjoy on the water. Here are some ideas:
Sightseeing: One of the most popular activities on a boat is sightseeing. This can include everything from admiring the coastline to spotting marine wildlife.
Water Sports: Depending on the type of boat you rent, you might be able to engage in water sports. This could include water skiing, wakeboarding, or tubing.
Fishing: Renting a boat can provide an excellent opportunity for a fishing trip. Some rental boats even come equipped with fishing gear.
Swimming and Snorkeling: Anchoring your boat in a safe location can allow for swimming, snorkeling, or diving. This can be a fantastic way to explore marine life up close.
Sunbathing and Relaxation: For those who prefer a slower pace, simply relaxing on the deck and sunbathing can be a great way to spend time on a boat rental.
Picnicking: With a bit of planning, you can have a picnic or even a full meal on the boat. Some larger boats may even have grills and dining areas.
Photography: Boating can offer unique opportunities for photography, capturing the stunning views of the sea, shoreline, sunset, or wildlife.
Special Occasions: A boat can be a unique venue for special events like birthday parties, anniversaries, or even business meetings.
Exploring New Areas: Use the boat to travel to and explore nearby islands, hidden coves, or secluded beaches.
Final Takeaways
Renting a boat can be an incredible experience, a chance to create unforgettable memories. But remember, it's not a process to be rushed. Taking the time to choose the right boat, understanding the costs, and paying attention to safety measures will ensure your boat rental experience is as smooth as the waters you hope to sail on.
---
FAQs
1. Do I need a boating license to rent a boat?
This largely depends on the local laws of the area. Some places require a boating license, while others just require proof of age and a valid ID. Generally, those under 25 years of age must pay for a certified boat captain when renting a boat.
2. Can I rent a boat for multiple days?
Yes, many rental companies offer multi-day rentals. Just make sure to check their policies and availability.
3. What happens if the weather turns bad?
Most rental companies have policies in place for inclement weather, which usually involve rescheduling your booking to a later date.
4. Is it safe to take children on a rented boat?
Yes, it can be safe to take children on a boat provided you follow all safety regulations, including having life jackets for all passengers.
5. Can I bring my pet on a rented boat?
Policies on pets vary by company. It's best to check in advance if you plan to bring your pet along.